Notice Of 10th Annual General Meeting
News & Reports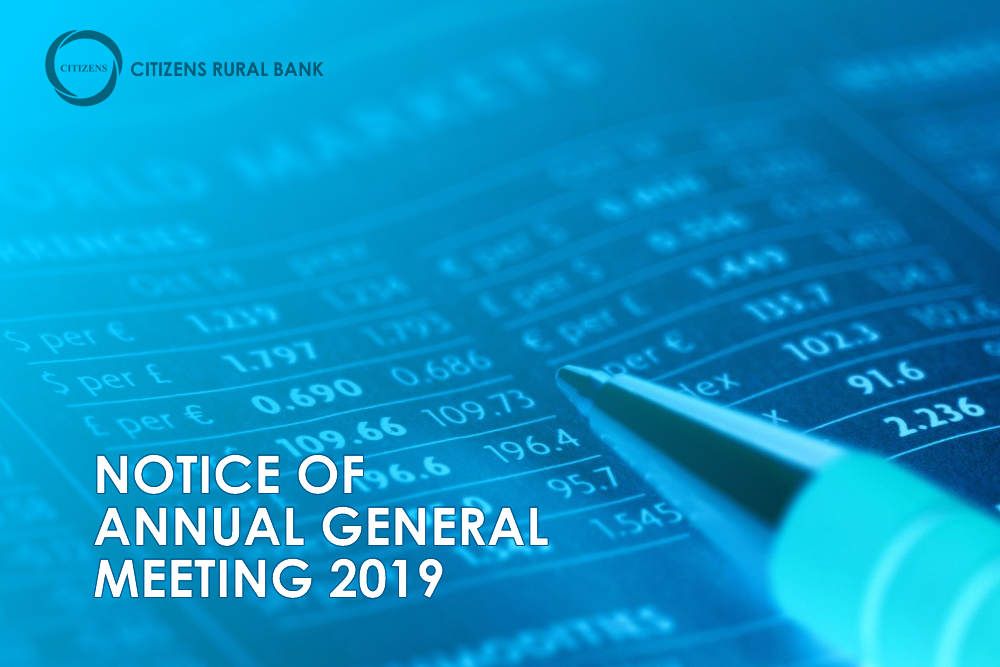 Notice is hereby given that the 10th Annual General Meeting of the Citizens Rural Bank Limited will be held at the Wesley Methodist Church, Nsawam on Saturday, 30th November 2019 at 10:00am prompt to transact the following business:
AGENDA
To read the notice governing the meeting.
To receive Chairman's Report.
To receive and consider the Accounts for the year ended 31st December 2018 and the reports of the Directors and Auditors thereon.
To adopt and discuss the Reports.
To Authorize the Directors to fix the remuneration of Auditors.
To elect Directors in place of those retiring.
To approve Directors remuneration.
Dated this 30th November 2019
BY ORDER OF THE BOARD
KENNETH GORDON WOTORTSI
AG. SECRETARY
NOTE
Every member is entitled to attend and vote at the meeting or to appoint a proxy to attend and vote on their behalf. Such proxy need not be a member of the Bank.
A form of proxy could be obtained at our Agencies. Completed proxy forms should be lodged at the Registered Office of the Citizens Rural Bank Ltd. Nsawam not later than 10:00am on 30th November 2019.